Week #6: The Market (Preview)
Michael Nazarek - 10/13/2020
If your team is 2-3 or 3-2, you should be working the waiver wire and talking trades to your advantage to get your team in a position to make a playoff push. Most leagues begin their playoffs in week #13 or #14, meaning we are nearly 40% of the way through the regular season. It's now or never for many teams to whip that roster into shape, so let's get right to it…
THE QUARTERBACKS
-- Avoid the Washington QB Situation --
Washington QB Kyle Allen (arm) got the start on Sunday, but did not last that long, injuring his arm. That left the door open for veteran QB Alex Smith, playing for the first ime in years since his serious leg injury. He struggled too against a tough Rams defense. Despite Smith's playing, Allen...
This is a Premium FF Mastermind Article.
You must be logged in to view it.
Back to top of page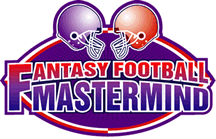 The Definitive Fantasy Information Service
Mastermind Moment
UPDATED: NFL Game Matchup Analysis & Mastermind Moments!
Sunday, September 13th, 2020
OK, the big day has come and gone; your draft is over. You assembled an impressive roster thanks to a lot of time, energy and research dedicated to that task.
Read the Full Mastermind Moment