Week #6: Early-Week Picks to Click/Flick (Preview)
Michael Nazarek - 10/12/2020
This section expresses my gut feeling with regard to which NFL players I feel will have good days and those that will have bad ones. I remind everyone to take these picks with a grain of salt. They are certainly NOT meant to override our weekly rankings! They are based upon past performances as well as this week's match-up. Last week, click QB Teddy Bridgewater produced quality fantasy points in a third win in a row, this time over the Falcons. I would not expect them to rush STUD RB Christian McCaffrey (ankle - IR) back into play with RB Mike Davis playing so well. Furthermore, click WR Robby Anderson has become an auto-click in this offense. Jets GM Joe Douglas completed whiffed on any attempt to keep Anderson during the off-season. That is why the Jets are the Jets. This week, look for click QB Mathew Stafford to...
This is a Premium FF Mastermind Article.
You must be logged in to view it.
Back to top of page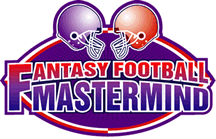 The Definitive Fantasy Information Service
Mastermind Moment
UPDATED: NFL Game Matchup Analysis & Mastermind Moments!
Sunday, September 13th, 2020
OK, the big day has come and gone; your draft is over. You assembled an impressive roster thanks to a lot of time, energy and research dedicated to that task.
Read the Full Mastermind Moment