Week #6: Upgrades & Downgrades (Preview)
Michael Nazarek - 10/12/2020
During the season, I highlight specific players due to their recent performances on the field of play. The three categories are listed below. Upgrades are players on the rise. If you own these players you should either hold them and start them or look to trade them if they are playing way over their head. Downgrades are sliding players. If you own these players, you should consider benching them until they turn their performances around or consider waiving them if you can't trade them and they've gone completely in the tank. Steady-Eddies are consistent fantasy producers, both good and bad. Start or look to acquire the good. Bench or waive the bad. Let's take a look at what comes to mind after week #5…
UPGRADES:
QB Patrick Mahomes/KC - The Chiefs lost, but Mahomes is back near the top of the QB rankings!
...

This is a Premium FF Mastermind Article.
You must be logged in to view it.
Back to top of page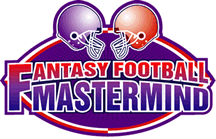 The Definitive Fantasy Information Service
Mastermind Moment
UPDATED: NFL Game Matchup Analysis & Mastermind Moments!
Sunday, September 13th, 2020
OK, the big day has come and gone; your draft is over. You assembled an impressive roster thanks to a lot of time, energy and research dedicated to that task.
Read the Full Mastermind Moment