2020 PSDG: COVID-19 Fantasy Football for Players/Owners (Preview)
Chris Rito - 7/27/2020
COVID has made so much of the reality of our everyday lives into an afterthought. For many, recreation and amusement like FFL has been thrust onto the trash heap as we try to figure out how to live our lives and do our jobs in a state of perpetual quarantine. But it is precisely for this reason that the FFL player needs this football and fantasy season to take place, to allow us that release from the dreary toll that COVID has taken on our lives. And since you are on this website and reading this article, I presume that you are looking ahead with great anticipation towards this season even more than usual -- and likely for the same reason as am I. Furthermore, you recognize that this season will produce some unique challenges as a fantasy owner that could influence the way you assemble your...
This is a Premium FF Mastermind Article.
You must be logged in to view it.
Back to top of page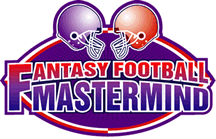 The Definitive Fantasy Information Service
Mastermind Moment
UPDATED: NFL Game Matchup Analysis & Mastermind Moments!
Sunday, September 13th, 2020
OK, the big day has come and gone; your draft is over. You assembled an impressive roster thanks to a lot of time, energy and research dedicated to that task.
Read the Full Mastermind Moment