2020 MCP (Mastermind Championship Projections) Board (Preview)
6/29/2020 - Version I
The 2020 MCP (Mastermind Championship Projections) Board
Looking for an online projections board where you can customize, save, and print your cheatsheets without using a MS Excel App spreadsheet? If the answer is YES, then this board is for you! It includes the following:
1) Fully Customizable - Create your scoring system, save it, and it's added to the drop down list of pre-generated systems (no need to recreate your system each time the board is updated!)
2) 313 Player Projections (180 IDPs coming in July)!
3) Fully Sortable - Many columns of projections sortable at the click of a button
4) The Mastermind's Comments for every player listed - Mike Nazarek's current thoughts on all entries
5) Two printing options - Print...
This is a Premium FF Mastermind Article.
You must be logged in to view it.
Back to top of page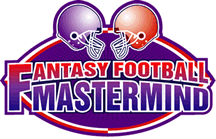 The Definitive Fantasy Information Service
Mastermind Moment
2020 Madness NFL Rookie Draft Reference Guide
Monday, April 13th, 2020
Premium Pro Bowl and Super Bowl Package Subscribers take note. The time has come. The 2020 Madness NFL Rookie Draft Reference Guide has been released for your viewing pleasure. This
Read the Full Mastermind Moment