2020 June Dynasty/Keeper Fantasy Rankings (Preview)
Brent Lathrop - 6/9/2020
Quarterback
6-08-2020
Rookie Quarterbacks – An interesting year for the newly drafted quarterbacks this season. Outside of Joe Burrows, who looks like the real deal, there are quite a few question marks. Burrows should start from day one and has the makings of a legit franchise quarterback. Next in line is one that others are quite a bit more excited about than I am in Tua Tagovailoa. He's going to a team devoid of talent on the offensive side of the ball..well, both sides of the ball but we aren't talking defense here. He's also coming off a major injury. I'm still apprehensive about Justin Herbert as well. Not because another former Oregon quarterback Marcus Mariota flopped so badly, but because the Pac-12 has traditionally been easy on quarterbacks. Two other quarterbacks that I'm not ranking are actually intriguing, but they'll be sitting on the bench for...
This is a Premium FF Mastermind Article.
You must be logged in to view it.
Back to top of page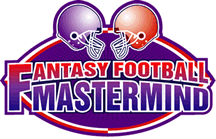 The Definitive Fantasy Information Service
Mastermind Moment
2020 Madness NFL Rookie Draft Reference Guide
Monday, April 13th, 2020
Premium Pro Bowl and Super Bowl Package Subscribers take note. The time has come. The 2020 Madness NFL Rookie Draft Reference Guide has been released for your viewing pleasure. This
Read the Full Mastermind Moment