2020 Masters List Customizeable Cheatsheets (PPR & Non-PPR) (Preview)
6/5/2020 - Version 1.02 & 1.03
With the NFL Draft complete and the virutal off-season winding down, it's time to UPDATE the initial FFMastermind.com 2020 NFL fantasy football player rankings and projections for the quarterback, running back, wide receiver, tight end, place kicker, team defense position, and IDPs for both non-PPR and PPR league scoring systems. The player rankings and projections are broken down into seven Tiers per position, and cover a total of 460 players plus the 32 NFL team defenses. Rookies are included in these rankings, of course. This UPDATED feature is released in the form of our annual Masters List customizable cheatsheet Excel App, which enables subscribers to customize the scoring system for their own personal league. Simply click the link below, download the App and open it using MS Excel. The Mastermind Championship Projections (MCP) Board for online HTML viewing and printing will likely debut in July, whom don't care...
This is a Premium FF Mastermind Article.
You must be logged in to view it.
Back to top of page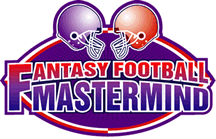 The Definitive Fantasy Information Service
Mastermind Moment
2020 Madness NFL Rookie Draft Reference Guide
Monday, April 13th, 2020
Premium Pro Bowl and Super Bowl Package Subscribers take note. The time has come. The 2020 Madness NFL Rookie Draft Reference Guide has been released for your viewing pleasure. This
Read the Full Mastermind Moment