2020 March Rookie Player Rankings (Preview)
John Holler - 3/19/2020
At a time when sports are reeling due to the COVID-19 outbreak, the NFL draft is going to be as analyzed and overanalyzed as it ever has been. With stocks rising and falling from the results at the Combine and free agency changing the landscape of the game, the draft is going to be a critical form of stocking the shelves for teams with needs.
Our rankings have changed quite a bit with the results from the Combine, but most of the top stars that worked out at Indianapolis increased their stock or solidified their position. These are our updated 2020 rankings for March...
QUARTERBACK
1. Joe Burrow, LSU
2. Tua Tagovailoa, Alabama
3. Justin Herbert, Oregon
4. Jordan Love, Utah State
5. Jacob Eason, Washington
6. Jake Fromm, Georgia
7. Jalen Hurts, Oklahoma
8. Steven Montez, Colorado
9. Anthony Gordon...
This is a Premium FF Mastermind Article.
You must be logged in to view it.
Back to top of page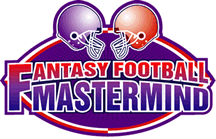 The Definitive Fantasy Information Service
Mastermind Moment
2020 Madness NFL Rookie Draft Reference Guide
Monday, April 13th, 2020
Premium Pro Bowl and Super Bowl Package Subscribers take note. The time has come. The 2020 Madness NFL Rookie Draft Reference Guide has been released for your viewing pleasure. This
Read the Full Mastermind Moment