2020 Mock Rookie Draft - Version II (Preview)
John Holler - 3/12/2020
With the days counting down to the start of free agency, we take a look at the first round of the 2020 mock draft with an eye on the needs teams have that will either be filled in free agency or created with free agent losses.
As teams lose players and sign others, it will change the landscape of the draft, but, for now, here is where we have players landing.
Note: We have projected one trade with Miami moving up to the No. 3 spot to Detroit and getting the Nos. 5 and 39 picks in return.
1. Cincinnati – Joe Burrow, QB, LSU. There has been nothing that has made this pick change from our first mock. Coming off the greatest individual passing season in major college football history, Burrow is locked into the No. 1 spot as the Bengals try...
This is a Premium FF Mastermind Article.
You must be logged in to view it.
Back to top of page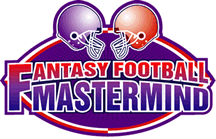 The Definitive Fantasy Information Service
Mastermind Moment
2020 Madness NFL Rookie Draft Reference Guide
Monday, April 13th, 2020
Premium Pro Bowl and Super Bowl Package Subscribers take note. The time has come. The 2020 Madness NFL Rookie Draft Reference Guide has been released for your viewing pleasure. This
Read the Full Mastermind Moment