2020 February Rookie Player Rankings (Preview)
John Holler - 2/20/2020
A funny thing happens in February every year. Players who have put together two, three or four years of tapes for scouts and NFL front offices see their stock skyrocket or plummet by how they perform at the annual Scouting Combine.
Novices dismiss the Underwear Olympics as a dog and pony show that herds draft prospects together like cattle, but it is arguably the most important piece to the draft puzzle for NFL teams. Players can jump a round or two in the draft with a faster-than-expected 40 times or shuttle run or doing more reps of 225 pounds than more highly coveted players at his position. Stocks can rise or fall based on interviews players have with teams and how they answer questions about their background. Perhaps the most important aspect is when the team's medical staff gets their hands on players and diagnose what sort...
This is a Premium FF Mastermind Article.
You must be logged in to view it.
Back to top of page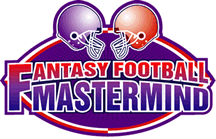 The Definitive Fantasy Information Service
Mastermind Moment
2020 Madness NFL Rookie Draft Reference Guide
Monday, April 13th, 2020
Premium Pro Bowl and Super Bowl Package Subscribers take note. The time has come. The 2020 Madness NFL Rookie Draft Reference Guide has been released for your viewing pleasure. This
Read the Full Mastermind Moment