2020 Mock Rookie Draft - Version I (Preview)
John Holler - 2/13/2020
As is always the case prior to the Combine, where stars are made in shorts and T-shirts, and free agency, where money flows like a waterfall, you have teams with needs and the Class of 2020 waiting for their invites.
This is an interesting class because quarterbacks always go high, but there are only three worthy of first-round grades and they'll be inflated. But, this is a year with six or seven legitimate wide receivers could go in the first round, but the sheer numbers will tell you that teams will wait until the second round to take two or three of them. It's also a strong year for offensive tackles and, with the general state of many teams, that will be a priority.
With my first mock draft of the year, I always tend to stand by my longstanding college football manta – pay...
This is a Premium FF Mastermind Article.
You must be logged in to view it.
Back to top of page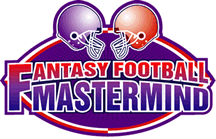 The Definitive Fantasy Information Service
Mastermind Moment
2020 Madness NFL Rookie Draft Reference Guide
Monday, April 13th, 2020
Premium Pro Bowl and Super Bowl Package Subscribers take note. The time has come. The 2020 Madness NFL Rookie Draft Reference Guide has been released for your viewing pleasure. This
Read the Full Mastermind Moment