2020 NFL Team (Rookie) Needs (Preview)
John Holler - 2/7/2020
With the Combine on the horizon, the NFL is doing a deep dive on the Class of 2020. The purpose of the Combine is to allow front offices in the NFL to get a look at players they are willing to roll the dice on instead of making free agent investments.
As teams converge for the Combine, these are the needs that each has in terms of what they need to fill with a rookie class – whether that means a big-splash first round selection or grabbing a tight end or safety in the sixth round with upside. These are the needs for the NFL's 32 teams.
Arizona Cardinals (OL, DL, LB, CB, TE) – Suffice to say, QB won't be the first-round pick here for the third straight year. It will likely come in the trenches. They patched together their offensive line and had...
This is a Premium FF Mastermind Article.
You must be logged in to view it.
Back to top of page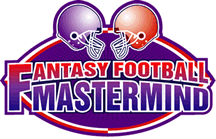 The Definitive Fantasy Information Service
Mastermind Moment
2020 Madness NFL Rookie Draft Reference Guide
Monday, April 13th, 2020
Premium Pro Bowl and Super Bowl Package Subscribers take note. The time has come. The 2020 Madness NFL Rookie Draft Reference Guide has been released for your viewing pleasure. This
Read the Full Mastermind Moment