Preliminary Top 12 Fantasy Player Rankings for 2020 (Preview)
Michael Nazarek - 2/5/2020
Fantasy Index Ask the Experts - What is your top 12 fantasy player rankings for 2020? With free agency approaching, things could change a lot by the time I release my first comprehensive rankings later this spring. Below, I'm offering you my top 12 in both PPR and Non-PPR leagues for 2020 as of early-February. Enjoy!
Top 12 for PPR (Points-Per-Reception) Leagues:
1) RB Christian McCaffrey, CAR - He totaled nearly 2400 yards and scored 19 times in 2019! Best of all, he caught an amazing 116 passes! He is clearly the top RB in the NFL!
2) WR Michael Thomas, NO - Thomas gets the nod over all the other RBs in the league. Why? In PPR systems, he scored a whopping 375 points on a gaudy 149-1725-9 stat line. Yes, even if Brees retires, the Saints would re-sign...
This is a Premium FF Mastermind Article.
You must be logged in to view it.
Back to top of page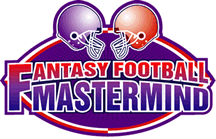 The Definitive Fantasy Information Service
Mastermind Moment
Free Agency 2020 Review: 15 Players to Watch
Thursday, April 2nd, 2020
4/2/2020: By FFMastermind.com's Michael Nazarek (Premium Fantasy Article) - We are a bit more two weeks into free agency in 2020, so this is a good time to offer my
Read the Full Mastermind Moment