2020 Initial Dynasty/Keeper Fantasy Player Rankings (Preview)
Brent Lathrop - 1/27/2020
Quarterback
There are a lot of big names going on the market as unrestricted free agents this offseason. Dak Prescott and Ryan Tannehill probably played well enough to get tagged if they don't come to an agreement before the deadline. Drew Brees will have his retirement announcement within the next month, he says. That decision will hugely affect what happens with Teddy Bridgewater – who is also an UFA. While it will be awfully strange to see, Tom Brady could be donning a new uniform in 2020. While he's not top 10 any longer he was still able to put together a QB2 season last year. Jameis Winston in another intriguing free agent who lit it up in Tampa finishing tied as the 2nd ranked quarterback in 2019. If he could only cut back on those turnovers. Phillip Rivers will not be back in LA playing for...
This is a Premium FF Mastermind Article.
You must be logged in to view it.
Back to top of page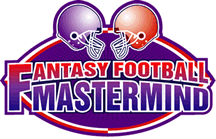 The Definitive Fantasy Information Service
Mastermind Moment
2020 Madness NFL Rookie Draft Reference Guide
Monday, April 13th, 2020
Premium Pro Bowl and Super Bowl Package Subscribers take note. The time has come. The 2020 Madness NFL Rookie Draft Reference Guide has been released for your viewing pleasure. This
Read the Full Mastermind Moment