Week #13: Final Fantasy Thoughts (Preview)
Michael Nazarek - 11/29/2019
FFMastermind.com Weekly Newsletter
FINAL FANTASY THOUGHTS
Weekly Newsletter: Volume XXIV, Issue 13
November 29, 2019
________________________________________________________________________
Minnesota Vikings WR Adam Thielen (hamstring) was back at practice on Friday, in a limited fashion. Thielen addressed where he's at with his injured hamstring: "(I've) just been trying to give it as much rest as possible, taking advantage of the time off we had and then now I have to show that I can do it and that I can do it over and over and over and it can hold up. That's kind of where we're at. This has kind of been the plan the whole time since I hurt it last time. Everything's gone according to plan and we're going to continue to see what happens. I have to be able to do all the things that I could...
This is a Premium FF Mastermind Article.
You must be logged in to view it.
Back to top of page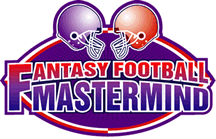 The Definitive Fantasy Information Service
Mastermind Moment
2020 Madness NFL Rookie Draft Reference Guide
Monday, April 13th, 2020
Premium Pro Bowl and Super Bowl Package Subscribers take note. The time has come. The 2020 Madness NFL Rookie Draft Reference Guide has been released for your viewing pleasure. This
Read the Full Mastermind Moment