Week #13: The Inside Slant (Preview)
John Holler - 11/26/2019
Week 13 is going to be the statement week – good or bad for a lot of teams in what is the final week of the regular season in most fantasy leagues.
It starts on Thanksgiving Day as the 5-6 Bears need to run the table to make the playoffs, starting at Detroit. The game of the day will be the Bills (8-3) heading into Dallas (6-5) with a lot at stake for both teams. The Saints (9-2) head into Atlanta (3-8) to look to keep their potential for the No. 1 seed in the NFL alive.
The game of the week is in the early Sunday window as the 49ers (10-1) come to Baltimore to play the 9-2 Ravens. Other early games of interest include a battle of 6-5 division foes, as Tennessee heads into Indianapolis. The Packers look back on the winning side...
This is a Premium FF Mastermind Article.
You must be logged in to view it.
Back to top of page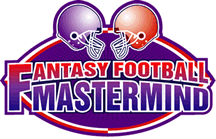 The Definitive Fantasy Information Service
Mastermind Moment
2020 Madness NFL Rookie Draft Reference Guide
Monday, April 13th, 2020
Premium Pro Bowl and Super Bowl Package Subscribers take note. The time has come. The 2020 Madness NFL Rookie Draft Reference Guide has been released for your viewing pleasure. This
Read the Full Mastermind Moment