Week #10: The Market (Preview)
Michael Nazarek - 11/5/2019
As we inch closer to playoff time in many fantasy leagues, it is the next four weeks that will decide if your team is a championship contender or pretender. Therefore, it's crucial that you maximize the production from your starting lineup, or it's "wait until next year". To that end, I'll try to discuss interesting situations around the league that may be helping or hindering certain fantasy players. Of course, there will always be possible free agents to discuss each week. Let's get right to it...
THE QUARTERBACKS
-- Who is Ryan Finley? --
QB Ryan Finley is the new starter for the Cincinnati Bengals. He played college football at N.C. State, and was drafted by the Bengals in the fourth round of the 2019 NFL Draft. With the team 0-8, the coaches...
This is a Premium FF Mastermind Article.
You must be logged in to view it.
Back to top of page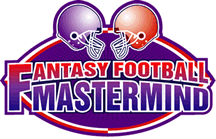 The Definitive Fantasy Information Service
Mastermind Moment
2020 Madness NFL Rookie Draft Reference Guide
Monday, April 13th, 2020
Premium Pro Bowl and Super Bowl Package Subscribers take note. The time has come. The 2020 Madness NFL Rookie Draft Reference Guide has been released for your viewing pleasure. This
Read the Full Mastermind Moment