Week #10: Acquiring & Trading Targets (Preview)
Michael Nazarek - 11/5/2019
In this feature, I'll do my best to offer 1-3 players (QB, RB, WR, & perhaps a TE) to target to acquire via trade as well as one player to trade away…
-- Look to Acquire --
QB Aaron Rodgers, GB - Anytime a top QB has an off game, why not look into trading for him? Yes, the price may be high, but Mr. Rodgers is well worth it!
QB Deshaun Watson, HOU - He's produced two mediocre games over the past three weeks and his BYE is this week, so perhaps you can pry him from a desperate fantasy owner's hands without paying an arm and leg! Yeah... right. Well, it's worth a try!
RB Aaron Jones, GB - Just like Mr. Rodgers, he is coming off a terrible game, but should easily...
This is a Premium FF Mastermind Article.
You must be logged in to view it.
Back to top of page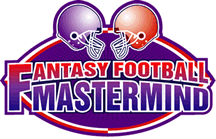 The Definitive Fantasy Information Service
Mastermind Moment
Week #12: The Inside Slant <--- Check It Out FREE!
Wednesday, November 20th, 2019
Wondering why FFMastermind.com has been online for 24 YEARS? Some of the proof is in the premium INSIDE SLANT feature part of the In-Season Weekly Newsletter. Check out
Read the Full Mastermind Moment