Week #10: Picks to Click/Flick (Preview)
Michael Nazarek - 11/4/2019
This section expresses my gut feeling with regard to which NFL players I feel will have good days and those that will have bad ones. I remind everyone to take these picks with a grain of salt. They are certainly NOT meant to override our weekly rankings! They are based upon past performances as well as this week's match-up. Last week, it was nice to see click QB Jimmy Garoppolo bloom with WR Emmanuel Sanders by his side. It's fairly clear that Sanders "completes" Garoppolo, at least in fantasy football terms. This week, there are many obvious click situations in the league, as many middling fantasy QBs have great matchups. Those matchups will also help out those teams' WRs too. On the flip side, flick WR Adam Thielen (hamstring) lasted only seven snaps on Sunday before re-aggravating his hamstring injury. This injury looks like a redo of Dalvin Cook...
This is a Premium FF Mastermind Article.
You must be logged in to view it.
Back to top of page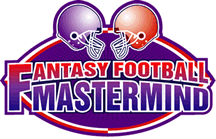 The Definitive Fantasy Information Service
Mastermind Moment
2020 Madness NFL Rookie Draft Reference Guide
Monday, April 13th, 2020
Premium Pro Bowl and Super Bowl Package Subscribers take note. The time has come. The 2020 Madness NFL Rookie Draft Reference Guide has been released for your viewing pleasure. This
Read the Full Mastermind Moment