Week #9: Final Fantasy Thoughts (Preview)
Michael Nazarek - 11/1/2019
FFMastermind.com Weekly Newsletter
FINAL FANTASY THOUGHTS
Weekly Newsletter: Volume XXIV, Issue 9
November 1, 2019
________________________________________________________________________
The Seattle Seahawks have claimed WR Josh Gordon off waivers from the Patriots. HC Pete Carroll says... "He's a unique talent. Next week we'll take a look and see what he looks like."
Mike's View:
This is an interesting move to say the least.
QB Russell Wilson
wanted the team to claim Gordon, so he gets his wish. Gordon is obviously talented, but had not been playing well in 2019. In addition, he started to show bad habits as a Patriot, in terms of poor practice habits as well as he was starting to be late for meetings. Not good. Is
WR Josh Gordon
worthy of a fantasy free-agent pickup? Why not? I made that move in...
This is a Premium FF Mastermind Article.
You must be logged in to view it.
Back to top of page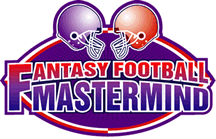 The Definitive Fantasy Information Service
Mastermind Moment
2020 Madness NFL Rookie Draft Reference Guide
Monday, April 13th, 2020
Premium Pro Bowl and Super Bowl Package Subscribers take note. The time has come. The 2020 Madness NFL Rookie Draft Reference Guide has been released for your viewing pleasure. This
Read the Full Mastermind Moment