Week #6: Picks to Click/Flick (Preview)
Michael Nazarek - 10/7/2019
This section expresses my gut feeling with regard to which NFL players I feel will have good days and those that will have bad ones. I remind everyone to take these picks with a grain of salt. They are certainly NOT meant to override our weekly rankings! They are based upon past performances as well as this week's match-up. Last week, clicks QB Tom Brady and WR Adam Thielen rebounded with big games for their fantasy owners. On the flip side, flick WR Amari Cooper was the guy to show me up with a big game against the Packers. Here's a quick piece of advice. If a STUD is listed below as a flick, it is not meant for you to outright bench him. It's just meant for you to temper your expectations. That said, any STUD can overcome poor matchups on occasion to help their fantasy owners win...
This is a Premium FF Mastermind Article.
You must be logged in to view it.
Back to top of page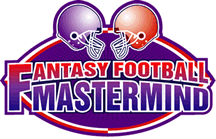 The Definitive Fantasy Information Service
Mastermind Moment
UPDATED: NFL Game Matchup Analysis & Mastermind Moment: The Real Work Begins!
Sunday, September 8th, 2019
OK, the big day has come and gone; your draft is over. You assembled an impressive roster thanks to a lot of time, energy and research dedicated to that task.
Read the Full Mastermind Moment