Week #5: PPR Fantasy Player Rankings (Preview)
Michael Nazarek - 10/5/2019
Note: PPR Standard Performance Leagues with a Slant Towards Scoring
-- McCoy & Falk Will Start! Melvin Gordon May Start! – -- Darnold, Burkhead, Adams, Campbell, D-Jax, Gabriel, Kirk, Davis, & Reed OUT! --
There have been many late week official developments concerning key starting positions. Let's get right to it...
All Seattle Seahawks and Los Angeles Rams players have been removed from our rankings update since they have already played.
Two low ranking QB changes have been made today, but fantasy owneers should not even considr starting the two players added to our rankings.
There are 15 players that are injured and likely to see less action than if they were 100% healthy. As a result, they are marked in purple on our rankings. A few other players have climbed or slid due to their injury situations. Use care...
This is a Premium FF Mastermind Article.
You must be logged in to view it.
Back to top of page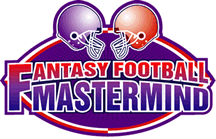 The Definitive Fantasy Information Service
Mastermind Moment
UPDATED: NFL Game Matchup Analysis & Mastermind Moment: The Real Work Begins!
Sunday, September 8th, 2019
OK, the big day has come and gone; your draft is over. You assembled an impressive roster thanks to a lot of time, energy and research dedicated to that task.
Read the Full Mastermind Moment