Week #2: The Inside Slant (Preview)
John Holler - 9/10/2019
Week 2 of the NFL season will be critical for a lot of teams – those looking to go 2-0 and those looking to avoid starting the season 0-2. The slate of games will be impressive.
The week begins with Carolina looking to avoid a 0-2 start heading into Tampa Bay. The Sunday early games include some big matchups including the Seahawks heading across the county to play the Steelers, the Vikings and Packers renewing their rivalry at Lambeau field and a pair of AFC South matchups – Jacksonville heading into Houston and Indianapolis going to Tennessee that will help the division take shape as to who will be in control.
The late games include a rematch of the NFC Championship Game when the Saints head to Los Angeles to face the Rams in a game that could have huge playoff seeding implications down the...
This is a Premium FF Mastermind Article.
You must be logged in to view it.
Back to top of page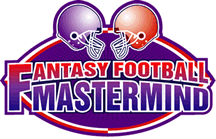 The Definitive Fantasy Information Service
Mastermind Moment
UPDATED: NFL Game Matchup Analysis & Mastermind Moment: The Real Work Begins!
Sunday, September 8th, 2019
OK, the big day has come and gone; your draft is over. You assembled an impressive roster thanks to a lot of time, energy and research dedicated to that task.
Read the Full Mastermind Moment