Week #2: The IDP Blitz (Preview)
Steve Yerger - 9/10/2019
Throughout the season, we will be looking at some free agents that you should be adding to your roster in IDP leagues. This column will focus on players who probably were not drafted in your leagues back in the summer, and may still be sitting out on your waiver wire. Some of the players listed are rookies who have either won starting jobs or are playing a significant amount of time early on in the season, or players who won the training camp battle at certain key productive positions. Hopefully these players listed below are still available for you to claim this week.

 DT
Sheldon Richardson, Cleveland - It is easy to forget about Richardson on what has become a very talented DL, but he got off to a solid start with his new team with 9 points in week 1.
...
This is a Premium FF Mastermind Article.
You must be logged in to view it.
Back to top of page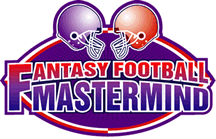 The Definitive Fantasy Information Service
Mastermind Moment
UPDATED: NFL Game Matchup Analysis & Mastermind Moment: The Real Work Begins!
Sunday, September 8th, 2019
OK, the big day has come and gone; your draft is over. You assembled an impressive roster thanks to a lot of time, energy and research dedicated to that task.
Read the Full Mastermind Moment