Week #1: Final Fantasy Thoughts (Preview)
Michael Nazarek - 9/6/2019
FFMastermind.com Weekly Newsletter
PACKERS BEAT BEARS!
Weekly Newsletter: Volume XXIV, Issue 1
September 6, 2019
________________________________________________________________________
Publisher's note: This feature is released earlier than usual on Friday since I will be drafting in the
FFPC
later today at Planet Hollywood on the strip in Las Vegas in the Main Event with a top prize of $500,000. Wish me luck!
The Green Bay Packers rallied to beat the Chicago Bears in a low-scoring game on Thursday night. In fantasy terms, this game produced some different results than expected. That said, fantasy players need to keep in mind this is only one game. I'll say this... Bears QB Mitchell Trubisky needs to play better if the Bears are to make the playoffs. Their defense is great, but if he can't...
This is a Premium FF Mastermind Article.
You must be logged in to view it.
Back to top of page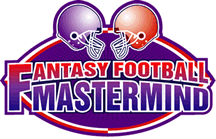 The Definitive Fantasy Information Service
Mastermind Moment
UPDATED: NFL Game Matchup Analysis & Mastermind Moment: The Real Work Begins!
Sunday, September 8th, 2019
OK, the big day has come and gone; your draft is over. You assembled an impressive roster thanks to a lot of time, energy and research dedicated to that task.
Read the Full Mastermind Moment