2019 FanEx Experts League Online Draft (Preview)
Michael Nazarek & Chris Rito - 8/16/2019 - COMPLETED
The 2019 FanEx Online League Draft is COMPLETE! FanEx is the Fantasy Experts league, one of the original fantasy experts leagues started back in 1996. FFMastermind.com Colts scout and fantasy writer Chris Rito and I partner together to represent our web site in the league. We won it all in 2016, 2012, 2011, 2009, and 2004 and have made the playoffs every year except four times. The FanEx Online League is a performance PPR (point-per-reception) league with 12 teams. Chris and I are drafting out of the #4 slot this year in a serpentine draft going 20 rounds. Click the link below to follow our progress.
FanEx URL - http://www57.myfantasyleague.com/2019/options?L=16760&O=17
FFMastermind.com Draft Picks:
Nazarek/Rito: 1.04 - WR DeAndre Hopkins, HOU
...
This is a Premium FF Mastermind Article.
You must be logged in to view it.
Back to top of page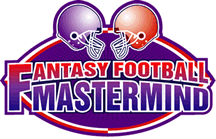 The Definitive Fantasy Information Service
Mastermind Moment
Week #12: The Inside Slant <--- Check It Out FREE!
Wednesday, November 20th, 2019
Wondering why FFMastermind.com has been online for 24 YEARS? Some of the proof is in the premium INSIDE SLANT feature part of the In-Season Weekly Newsletter. Check out
Read the Full Mastermind Moment