2019 PSDG: Hangin in the Red Zone (Preview)
John Holler - 7/22/2019
With the expansion of sports analytic breakdowns, the nerds and the scientists have become part of the game. In the real world of the NFL, analytic breakdowns have been done for decades. One that FF Mastermind was out in front of the curve for years that has become a stat that most fantasy sites rely on – the number of targets for receivers – is now viewed as being just as valued as reception totals themselves. One area that hasn't been fully vetted by the mainstream yet has been red zone production. Everyone has glommed on to the targets metric – you can't catch passes if you don't get targeted and if you don't catch enough passes when you are targeted, those opportunities dry up in a hurry. Yet, few have jumped on the red zone bandwagon. The simple reality is that most touchdowns aren't of the 50-yard variety...
This is a Premium FF Mastermind Article.
You must be logged in to view it.
Back to top of page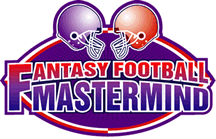 The Definitive Fantasy Information Service
Mastermind Moment
Week #12: The Inside Slant <--- Check It Out FREE!
Wednesday, November 20th, 2019
Wondering why FFMastermind.com has been online for 24 YEARS? Some of the proof is in the premium INSIDE SLANT feature part of the In-Season Weekly Newsletter. Check out
Read the Full Mastermind Moment