2019 PSDG: Mastermind Creepers (Preview)
Michael Nazarek - 7/7/2019
Were you one of those fantasy owners who drafted Jimmy Garoppolo, Leonard Fournette, Dalvin Cook, Allen Robinson, Cooper Kupp, or Delanie Walker last year? Unfortunately, these players were some of the many disappointments due to injuries or other unfortunate circumstances. Just because they didn't perform last year, doesn't mean they will fail again in 2019, but I want to make sure to point out some of the warning signs which may cause certain players to produce poor fantasy numbers this year. I remind everyone that the players on the forthcoming list may produce good fantasy numbers this coming season, but I recommend you think twice before drafting them for your team this year. Let the buyer beware!
QUARTERBACKS
Cam Newton (Carolina) - OVERRATED. A healthy Newton was a dangerous Newton. Unfortunately, Newton's shoulder injury is a serious issue. It...
This is a Premium FF Mastermind Article.
You must be logged in to view it.
Back to top of page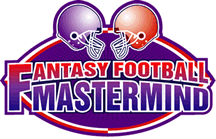 The Definitive Fantasy Information Service
Mastermind Moment
Free 2019 Pre-Season Draft Guide Preview
Monday, July 1st, 2019
Our patrons always ask for us to release a preview of our annual summer fantasy football blockbuster Pre-Season Draft Guide. Well, YOU asked for it, YOU got it!
Read the Full Mastermind Moment