2019 PSDG: Early ADP Trends in 2019 (Preview)
Chris Rito - 6/28/2019
If you are in an early draft – and by that, I mean a league that holds their draft before the latter portions of the preseason – you know that the fortunes (and misfortunes) of many players and teams can change drastically between the time you draft and the time that league play starts. Nothing makes this more abundantly clear than spending a solid draft choice on a player only to have him blow out his ACL during training camp (e.g., Julian Edelman in recent years). Or worse, for that player to get unexpectedly and unceremoniously cut by his NFL team as they go with a cheaper and unknown option (see also 25% of placekickers in 2017). Sometimes the situations around the player simply change making him a far better or lesser fantasy option, and the draft position in early summer is totally wacked out.
This is a Premium FF Mastermind Article.
You must be logged in to view it.
Back to top of page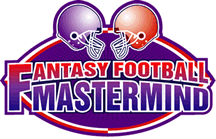 The Definitive Fantasy Information Service
Mastermind Moment
Free 2019 Pre-Season Draft Guide Preview
Monday, July 1st, 2019
Our patrons always ask for us to release a preview of our annual summer fantasy football blockbuster Pre-Season Draft Guide. Well, YOU asked for it, YOU got it!
Read the Full Mastermind Moment