2019 PSDG: ADP Steals & Deals (Preview)
John Cooney - 6/21/2019
ADP data used for the Steals/Deals article includes results from mock drafts and actual 12-team drafts in PPR formats from May 15 to present. PPR formats greatly out-weigh STANDARD drafts and are given priority consideration in the Steals and Deals selections.
ADP Player, Team, Position
2.03 Johnson, David ARZ RB
New HC and playcaller Kingsbury plans on using the full width and length of the football field. ARZ has a rookie QB to run that plan. Johnson's burst and multi-tasking ways are perfectly set for 1700 YFS and 10+ TDs. FFB gift in round 2. DEAL.
2.06 Jones, Julio ATL WR
Julio Jones had a heck of a 2018 season despite once again failing to beast-out as a prolific TD producer (8). * scores are fine for mere mortals but is no mere...
This is a Premium FF Mastermind Article.
You must be logged in to view it.
Back to top of page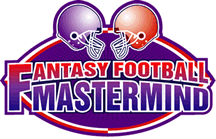 The Definitive Fantasy Information Service
Mastermind Moment
Free 2019 Pre-Season Draft Guide Preview
Monday, July 1st, 2019
Our patrons always ask for us to release a preview of our annual summer fantasy football blockbuster Pre-Season Draft Guide. Well, YOU asked for it, YOU got it!
Read the Full Mastermind Moment