2019 PSDG: Fantasy Football Lessons Learned from 2018 (Preview)
Michael Nazarek - 6/7/2019
Three years ago, I wrote my first "Lessons Learned" fantasy football article since the 1990's. Why did I wait so long to write one? Well, I'd like to think every NFL season is different, but I did want to discuss some of the more important trends in the game that have evolved over the past 20+ years. I thought it was a good idea, and I still think it was, but I must admit that in many ways, the past three years showed that trends can fade, stick, or flat out disappear. Bottom Line: Not even a Mastermind of this game gets everything right. Let's take a look at some of those trends and see what 2019 might bring when taking 2018 into account...
Supporting Cast Matters
This time lat year, I was very conservative when it came to QB Patrick Mahomes...
This is a Premium FF Mastermind Article.
You must be logged in to view it.
Back to top of page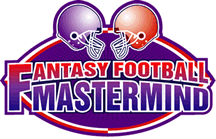 The Definitive Fantasy Information Service
Mastermind Moment
Week #12: The Inside Slant <--- Check It Out FREE!
Wednesday, November 20th, 2019
Wondering why FFMastermind.com has been online for 24 YEARS? Some of the proof is in the premium INSIDE SLANT feature part of the In-Season Weekly Newsletter. Check out
Read the Full Mastermind Moment