2019 May Dynasty/Keeper Fantasy Rankings (Preview)
Brent Lathrop - 5/31/2019
Publisher's Note: The following is our updated Keeper Korner/Dynasty fantasy player rankings for late May. The comments below on select key players represent our thoughts on the fantasy prospects for 2019 in dynasty/keeper leagues. Remember, an aging veteran is likely to be ranked lower than in re-drafter league rankings due to his age, and the fact his time in the league moving forward will be limited, just as young players may be ranked higher than their current production may indicate since they may be productive for several seasons (maybe even a decade) moving forward...
Quarterback
5-31-2019
Rookie Quarterbacks – I wasn't jumping up and down about the rookie crop last year, but it turns out I was wrong about a few of those guys. It happens…on occasion. This year may be worse though. The only guy this year that has...
This is a Premium FF Mastermind Article.
You must be logged in to view it.
Back to top of page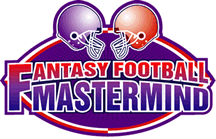 The Definitive Fantasy Information Service
Mastermind Moment
Week #12: The Inside Slant <--- Check It Out FREE!
Wednesday, November 20th, 2019
Wondering why FFMastermind.com has been online for 24 YEARS? Some of the proof is in the premium INSIDE SLANT feature part of the In-Season Weekly Newsletter. Check out
Read the Full Mastermind Moment