2019 Rookie Mini-Camp Update for May (Preview)
John Holler - 5/29/2019
The minicamp season is over and, as summer takes hold, the countdown to the start of training camps around the league is on.
Teams have had a chance to get a look at their new rookie crop and here are the news and notes that fantasy owners should be aware of, especially those who conduct rookie drafts early.
It must be noted that teams are in full-blown puff-up mode with their players because, at the time they drafted them – whether in the top of the first round or the end of the seventh round – they saw something in them they expect will help them make the team. Some of the praise is expected, but some of it can provide insight into the opportunities that they will be given to make good on the investment.
Here are some highlights from all 32...
This is a Premium FF Mastermind Article.
You must be logged in to view it.
Back to top of page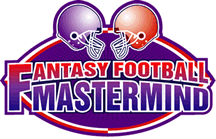 The Definitive Fantasy Information Service
Mastermind Moment
2020 Madness NFL Rookie Draft Reference Guide
Monday, April 13th, 2020
Premium Pro Bowl and Super Bowl Package Subscribers take note. The time has come. The 2020 Madness NFL Rookie Draft Reference Guide has been released for your viewing pleasure. This
Read the Full Mastermind Moment