2019 May Short-Term/Long-Term Rookie Rankings (Preview)
John Holler - 5/10/2019
With the draft in the rearview mirror and all eyes looking forward to the start of the 2019 NFL season, there are a slew of rookies that fantasy owners will be looking at. As anyone who expects a rookie to be a regular fantasy starter knows, all the hoopla that follows them to the NFL doesn't always play out on the field.
Every rookie is a risk because you don't know how their game will translate to the NFL, so these rankings – for 2019 and in dynasty leagues – are based upon the situation they find themselves in, not necessarily need. For example, we didn't have N'Keal Harry as the top wide receiver on our draft board, but we have him No. 1 here because he's paired up with Tom Brady with the anticipation of getting on the field immediately.
Rookies come with risk...
This is a Premium FF Mastermind Article.
You must be logged in to view it.
Back to top of page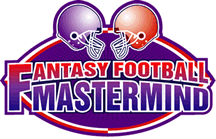 The Definitive Fantasy Information Service
Mastermind Moment
2020 Madness NFL Rookie Draft Reference Guide
Monday, April 13th, 2020
Premium Pro Bowl and Super Bowl Package Subscribers take note. The time has come. The 2020 Madness NFL Rookie Draft Reference Guide has been released for your viewing pleasure. This
Read the Full Mastermind Moment