2019 Rookie Draft Review (Preview)
John Holler - 5/6/2019
The process of evaluating a draft isn't a science by any stretch – for those selecting the players and those watching from the outside evaluating picks. Someone like Mel Kiper and, in a previous life, Mike Mayock can grade out players and claim a team is making a mistake simply because he didn't see the player taken as having the value that the team drafting him took.
In truth, a draft isn't fairly able to be judged until two years later because by then you know what you have. With that said, here are the preliminary grades given to the draft class of 2019 and the teams that hope they will become cornerstone pieces of their franchise for years to come.
ARIZONA CARDINALS – The key player here obviously is No. 1 overall pick Kyler Murray. They loved him so much that they gave up...
This is a Premium FF Mastermind Article.
You must be logged in to view it.
Back to top of page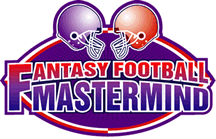 The Definitive Fantasy Information Service
Mastermind Moment
2020 Madness NFL Rookie Draft Reference Guide
Monday, April 13th, 2020
Premium Pro Bowl and Super Bowl Package Subscribers take note. The time has come. The 2020 Madness NFL Rookie Draft Reference Guide has been released for your viewing pleasure. This
Read the Full Mastermind Moment