2019 Rookie Draft Winners & Losers (Preview)
John Holler - 4/28/2019
Projecting draft winners and losing is always an exercise in futility because there are so many factors that come into play (injuries, players whose game doesn't translate to the pros, coaching changes, etc.) that make what appeared to be a great draft into one that looks awful three or four years later.
What makes this year's winners and losers list so pronounced (and unintended), was that all the teams we had listed as winners are from the AFC and all the teams we have listed as losers were from the NFC.
The NFL has a way of self-correcting and this is a prime example of that. Coming into 2018 before the rise of Kansas City, just about every football analyst who made projections expected either New England or Pittsburgh in the Super Bowl. In the NFC, cases were being made for New Orleans, Los...
This is a Premium FF Mastermind Article.
You must be logged in to view it.
Back to top of page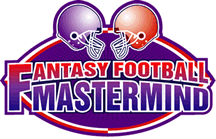 The Definitive Fantasy Information Service
Mastermind Moment
2020 Madness NFL Rookie Draft Reference Guide
Monday, April 13th, 2020
Premium Pro Bowl and Super Bowl Package Subscribers take note. The time has come. The 2020 Madness NFL Rookie Draft Reference Guide has been released for your viewing pleasure. This
Read the Full Mastermind Moment