Free Agency 2019 Review: 16 Players to Watch (Preview)
Michael Nazarek - 3/27/2019
We are about two weeks into free agency in 2019, so this is a good time to offer my first thoughts on the biggest moves made over this period of time. Below, you'll see I have offered 16 players to watch over the coming months. The first five listed are players whom I believe to be the biggest winners with regard to where they find themselves two weeks after free agency (including trades) began. The next five are my biggest losers, and the final six are the wildcards, players whom could be winners or losers depending on how things shake out over the summer and into the season. Time's a wastin', so let's get right to the fantasy analysis...
THE WINNERS:
1) QB Baker Mayfield, CLE - Welcome to Cleveland, OBJ! I am feeling dangerous! Yes, sir! What young QB wouldn't want...
This is a Premium FF Mastermind Article.
You must be logged in to view it.
Back to top of page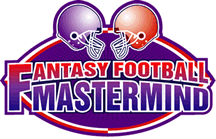 The Definitive Fantasy Information Service
Mastermind Moment
Week #12: The Inside Slant <--- Check It Out FREE!
Wednesday, November 20th, 2019
Wondering why FFMastermind.com has been online for 24 YEARS? Some of the proof is in the premium INSIDE SLANT feature part of the In-Season Weekly Newsletter. Check out
Read the Full Mastermind Moment