2019 March Rookie Player Rankings (Preview)
John Holler - 3/19/2019
A lot happens to the stock of players eligible for the draft each year – the all-star games, Scouting Combine, Pro Days and private workouts – that help rise or drop stock. The Combine is so important to players that a performance in Indianapolis can go a long way to eliminating a lot of the game tape on players for better or worse.
As the players head off for the annual Underwear Olympics, these are the players to keep a close eye on because they have let their play on the field earn themselves at or near the top of their position rankings heading into the Combine. How they fare after their trip to Indy may be the biggest determinate as to where they get drafted. But for now, here are our position rankings by position as February prepares to turn to March.
QUARTERBACK
1. Kyler...
This is a Premium FF Mastermind Article.
You must be logged in to view it.
Back to top of page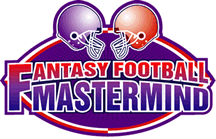 The Definitive Fantasy Information Service
Mastermind Moment
UPDATED: NFL Game Matchup Analysis & Mastermind Moment: The Real Work Begins!
Sunday, September 8th, 2019
OK, the big day has come and gone; your draft is over. You assembled an impressive roster thanks to a lot of time, energy and research dedicated to that task.
Read the Full Mastermind Moment