2019 Combine: Winners & Losers (Preview)
John Holler - 3/6/2019
Few things are as confounding to players as the annual Scouting Combine at Lucas Oil Stadium. Over the course of four days, players can see years of preparation and game action get negated or marginalized by a poor performance in the workouts or, as fans rarely catch wind of, the medical testing and interview processes that take place outside the prying eyes of the cameras.
By the same token, a player can see his stock skyrocket after a strong Combine performance, transforming him from a seventh-round prospect in a fourth-round player, a third-rounder in a second-rounder and a blue chip first-round pick.
The Combine is the starting point by which players start the process of catching the attention – good and bad – of general managers, coaches and scouts and these are the players that figure in the early portion of the draft who were...
This is a Premium FF Mastermind Article.
You must be logged in to view it.
Back to top of page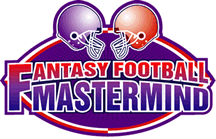 The Definitive Fantasy Information Service
Mastermind Moment
2020 Madness NFL Rookie Draft Reference Guide
Monday, April 13th, 2020
Premium Pro Bowl and Super Bowl Package Subscribers take note. The time has come. The 2020 Madness NFL Rookie Draft Reference Guide has been released for your viewing pleasure. This
Read the Full Mastermind Moment