2019 NFL Team (Rookie) Needs (Preview)
John Holler - 2/7/2010
At the end of each season, teams take assessments of their prospects for the coming draft and what needs they can fill there or in free agency. Given the nature of free agency, potential holes can be filled by re-signing players or going out on the open market to land talent. On the flip side of that, holes – sometimes caverns – can be created when a player an organization has counted on for season after season leaves via free agency and ramps up the sense of urgency to find an adequate replacement. Often times, that doesn't happen immediately and the results are pretty brutal.
Here is our team-by-team look at what needs teams have that they're looking at the draft as an option to fill or, if the right player comes along, filling needs in free agency to lessen the number of hot button depth problems...
This is a Premium FF Mastermind Article.
You must be logged in to view it.
Back to top of page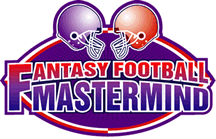 The Definitive Fantasy Information Service
Mastermind Moment
UPDATED: NFL Game Matchup Analysis & Mastermind Moment: The Real Work Begins!
Sunday, September 8th, 2019
OK, the big day has come and gone; your draft is over. You assembled an impressive roster thanks to a lot of time, energy and research dedicated to that task.
Read the Full Mastermind Moment