Free Agency 2019: Who Leaves and Who Stays? (Preview)
John Holler & Michael Nazarek - 2/2/2019
With the Super Bowl officially ending the 2018 season, the league will now focus on free agency, where several key players will be up for the bidding. While not a star-studded cast as in previous years, more than 100 players will change teams and some of them will be viewed as the difference-makers that could change the landscape of the NFL.
Here is the team-by-team list of free agents. Not every player is listed, just those who have been starters or key backups for their teams. Restricted free agents are denoted with the RFA designation after their names. John Holler offers his thoughts on the free agent class of all 32 teams directly after the lists of players.
SPECIAL LOOK:
This section represents
Michael Nazarek's
thoughts on key offensive free-agents for all 32 teams.
This is a Premium FF Mastermind Article.
You must be logged in to view it.
Back to top of page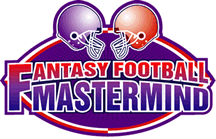 The Definitive Fantasy Information Service
Mastermind Moment
2019 Madness NFL Rookie Draft Reference Guide
Monday, April 15th, 2019
Premium Pro Bowl and Super Bowl Package Subscribers take note. The time has come. The 2019 Madness NFL Rookie Draft Reference Guide has been released for your viewing pleasure. This
Read the Full Mastermind Moment