2018 NFL Playoff Fantasy Rankings Report (Preview)
John Holler & Michael Nazarek - 12/31/2018
When it comes to playing postseason fantasy football, there are two basic schools of thought that come into play – take the best players, but weigh them by how many games you think they're going to play.
What makes postseason fantasy ball unique is that a minimum of four teams are going to play one game and at least two teams are going to play three games (or possibly four).
The difference between these rankings and the standard rankings/auction values used in the regular season is that someone like Melvin Gordon will be ranked lower than lesser backs from other teams because going across the country to play Baltimore's defense could have the wild card Chargers as a one-and-done.
What follow are the rankings based upon the formula we're using based upon the number of games you can reasonably expect a...
This is a Premium FF Mastermind Article.
You must be logged in to view it.
Back to top of page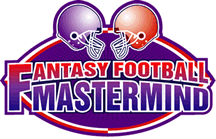 The Definitive Fantasy Information Service
Mastermind Moment
2019 Madness NFL Rookie Draft Reference Guide
Monday, April 15th, 2019
Premium Pro Bowl and Super Bowl Package Subscribers take note. The time has come. The 2019 Madness NFL Rookie Draft Reference Guide has been released for your viewing pleasure. This
Read the Full Mastermind Moment