Week #14: The Market (Preview)
Michael Nazarek - 12/4/2018
We are down to the final four weeks of the season. If you are still reading this newsletter, it probably means you've had a successful season, and have made your fantasy league playoffs or still have a chance provided you win this week. Congratulations. Trading deadlines have passed in most leagues. Therefore, the final four Market features will look at quick fix fantasy players to consider in the current week. Let's get right to it...
THE QUARTERBACKS
-- QB's to Consider for a Fantasy Start --
The following QBs have decent match-ups this week and deserve a look by fantasy owners in need. They are listed in pseudo order from best to worst in this section. However, I refer you to our player rankings for the week due for a Wednesday evening release for exact rankings...
This is a Premium FF Mastermind Article.
You must be logged in to view it.
Back to top of page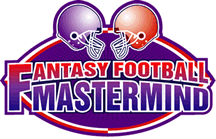 The Definitive Fantasy Information Service
Mastermind Moment
2019 Madness NFL Rookie Draft Reference Guide
Monday, April 15th, 2019
Premium Pro Bowl and Super Bowl Package Subscribers take note. The time has come. The 2019 Madness NFL Rookie Draft Reference Guide has been released for your viewing pleasure. This
Read the Full Mastermind Moment