2018 Dynasty Mid-Season Fantasy Player Rankings (Preview)
Brent Lathrop - 11/1/2018
Quarterback
The "Old Guys"
This list isn't much different than last season. These are the guys you want to dump off if you believe you'll struggle the make the playoffs or are rebuilding. There is no need to hold onto a player that will provide little to no value to you in the next year or so if you aren't going to make a run THIS season. On the flip side if you are looking to make a run this year then target these guys in trades. Ben Roethlisberger heads the guys you want to target as he has a pretty easy schedule during the playoffs. When looking at consistency Phillip Rivers is your guy. He's even more efficient than ever so far as he's on pace for a career high in touchdowns and career low in interceptions. Drew Brees and Tom Brady haven't the most exciting seasons...
This is a Premium FF Mastermind Article.
You must be logged in to view it.
Back to top of page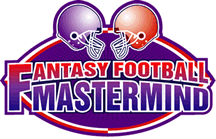 The Definitive Fantasy Information Service