Week #6: The Market (Preview)
Michael Nazarek - 10/9/2018
If your team is 2-3 or 3-2, you should be working the waiver wire and talking trades to your advantage to get your team in a position to make a playoff push. Most leagues begin their playoffs in week #13 or #14, meaning we are nearly 40% of the way through the regular season. It's now or never for many teams to whip that roster into shape, so let's get right to it…
THE QUARTERBACKS
-- Reconsider Jameis Winston --
The Tampa Bay Buccaneers return from their BYE this week, and they have a new starting QB in QB Jameis Winston. The FitzMagic is over. In his first game action since last year, Winston replaced QB Ryan Fitzpatrick and threw for 146 yards and a score, but also threw two picks in a game where...
This is a Premium FF Mastermind Article.
You must be logged in to view it.
Back to top of page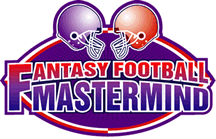 The Definitive Fantasy Information Service
Mastermind Moment
2019 Madness NFL Rookie Draft Reference Guide
Monday, April 15th, 2019
Premium Pro Bowl and Super Bowl Package Subscribers take note. The time has come. The 2019 Madness NFL Rookie Draft Reference Guide has been released for your viewing pleasure. This
Read the Full Mastermind Moment