Week #6: Acquiring & Trading Targets (Preview)
Michael Nazarek - 10/9/2018
In this feature, I'll do my best to offer 1-3 players (QB, RB, WR, & perhaps a TE) to target to acquire via trade as well as one player to trade away…
-- Look to Acquire --
QB Andy Dalton, CIN - My, how things have changed. In the past, I wouldn't want anything to do with Dalton, but he is a different player in 2018. He's coming off a mediocre game, but faces the following terrible defenses in the coming weeks... PIT, KC, TB, and NO. What's not to like there?
RB Kerryon Johnson, DET - No change here. Yes, he's in a RBBC, but he's clearly the best back, so he will make the most of the situation until his play forces the coaches to give him more touches. Just keep in mind, he...
This is a Premium FF Mastermind Article.
You must be logged in to view it.
Back to top of page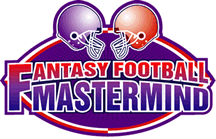 The Definitive Fantasy Information Service
Mastermind Moment
2019 Madness NFL Rookie Draft Reference Guide
Monday, April 15th, 2019
Premium Pro Bowl and Super Bowl Package Subscribers take note. The time has come. The 2019 Madness NFL Rookie Draft Reference Guide has been released for your viewing pleasure. This
Read the Full Mastermind Moment