Week #6: Picks to Click/Flick (Preview)
Michael Nazarek - 10/8/2018
This section expresses my gut feeling with regard to which NFL players I feel will have good days and those that will have bad ones. I remind everyone to take these picks with a grain of salt. They are certainly NOT meant to override our weekly rankings! They are based upon past performances as well as this week's match-up. Last week, clicks QB Ben Roethlisberger and RB James Conner came up big for their owners. Remember, you will only have one more week to start Conner! If you don't also own RB LeVeon Bell, now is the time to SEELL HIGH and trade him! This week, look for another shootout to happen with the Falcons, as the Buccaneers come to town. That means you start clicks QB Matt Ryan and QB Jameis Winston (if you need him). This should be the game where click WR Julio Jones finally scores...
This is a Premium FF Mastermind Article.
You must be logged in to view it.
Back to top of page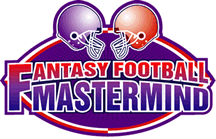 The Definitive Fantasy Information Service
Mastermind Moment
2019 Madness NFL Rookie Draft Reference Guide
Monday, April 15th, 2019
Premium Pro Bowl and Super Bowl Package Subscribers take note. The time has come. The 2019 Madness NFL Rookie Draft Reference Guide has been released for your viewing pleasure. This
Read the Full Mastermind Moment