Week #1: Final Fantasy Thoughts (Preview)
Michael Nazarek - 9/7/2018
Publisher's note: This feature is released earlier than usual on Friday since I will be drafting in the
FFPC
later today at Planet Hollywood on the strip in Las Vegas in the Main Event with a top prize of $250,000. Wish me luck!
The Super Bowl Champion Philadelphia Eagles hung to beat the Atlanta Falcons on Thursday night. In fantasy terms, this game produced some fairly interesting results. That said, fantasy players need to keep in mind this is only one game. I'll say this... Atlanta Falcons WR Julio Jones is a truly an elite talent, but the team needs to work with him and QB Matt Ryan every day in practice on their red zone connection (or lack thereof). On the flip side, Philadelphia Eagles QB Nick Foles seemed to have lost that magic he caught in...
This is a Premium FF Mastermind Article.
You must be logged in to view it.
Back to top of page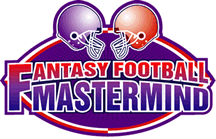 The Definitive Fantasy Information Service
Mastermind Moment
Free 2019 Pre-Season Draft Guide Preview
Monday, July 1st, 2019
Our patrons always ask for us to release a preview of our annual summer fantasy football blockbuster Pre-Season Draft Guide. Well, YOU asked for it, YOU got it!
Read the Full Mastermind Moment