2018 PSDG: Sleepers, Heavy Sleepers, & Catatonics (Preview)
Eddie Rex - 8/22/2018
The key to winning your league is finding value, even if it smells like 6-day-old fish
Come gather round, children, and let me tell you a tale.
It's the tale of a man who walks the streets of fantasy football alone. It's the story of a man ridiculed and blasphemed by every respectable fantasy team owner he meets.
And it's the story of a man who beats those teams, who wins at fantasy football every single friggin' year.
Because, if you're going to have a chance at winning fantasy football, you can't just pick the same guys everyone else does.
Every year I watch the same guys come off the board pretty much in the same order. Maybe someone likes Kenyan Drake a little more...
This is a Premium FF Mastermind Article.
You must be logged in to view it.
Back to top of page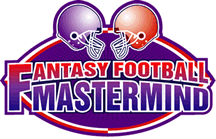 The Definitive Fantasy Information Service
Mastermind Moment
2019 Madness NFL Rookie Draft Reference Guide
Monday, April 15th, 2019
Premium Pro Bowl and Super Bowl Package Subscribers take note. The time has come. The 2019 Madness NFL Rookie Draft Reference Guide has been released for your viewing pleasure. This
Read the Full Mastermind Moment