2018 NFL Training Camp Capsules - NFC (Preview)
John Holler & Michael Nazarek - 8/9/2018
NFC EAST: WHO WILL CHALLENGE EAGLES FOR THE TOP SPOT?
It seems like every year for the last decade or so, the Dallas Cowboys have been projected as the favorite to win the NFC East. But, coming off a Super Bowl championship, the Philadelphia Eagles are the clear team to beat in the division and the belief is that they may be just as strong or perhaps even stronger than the team that went 16-3 a year ago.
The Cowboys will have a different look without Dez Bryant and Jason Witten, while the Redskins and Giants will each have a new look in hopes of returning to the playoffs themselves, but both would seem to be a bit of a long shot for 2018.
The Eagles are the class of the division and it will take a lot...
This is a Premium FF Mastermind Article.
You must be logged in to view it.
Back to top of page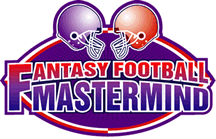 The Definitive Fantasy Information Service
Mastermind Moment
2019 Madness NFL Rookie Draft Reference Guide
Monday, April 15th, 2019
Premium Pro Bowl and Super Bowl Package Subscribers take note. The time has come. The 2019 Madness NFL Rookie Draft Reference Guide has been released for your viewing pleasure. This
Read the Full Mastermind Moment